Wally Bernard
Wally recognized how sport could bring people and communities together.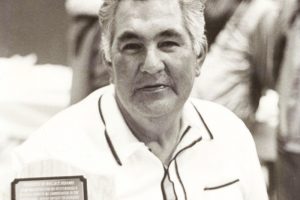 Wallace Bernard was inducted into the Mi'kmaq Sports Hall of Fame in 1996 as a Builder, in recognition of his contributions to sports as an athlete and co-founder of what is considered Atlantic Canada's annual inaugural event for the hockey season.
Wally started playing ball young and got into hockey, bowling, and volleyball. He was very active during his lifetime. He was always involved in sports, in some way or another. He was still young when he went to coaching school and started coaching hockey and ball to those younger than him.
It really started at the kitchen table though. Wally Bernard, Joe B. Marshall, David Knockwood, Clarence Gould, and Russell Martin brainstormed on how they getting the teams together to play tournaments, starting with Pictou Landing, Membertou, and Eskasoni. Starting with the Cape Breton reserves, it grew to include Mainland Nova Scotia and New Brunswick, but sometimes teams would come from as far away as Alberta. This was the Nova Scotia Indian Juvenile Hockey Tournament, the first of which took place in 1974.
Wally inspired generations of people to get involved in sports, both hockey and playing ball. His grandson now manages the Wally Bernard Memorial Native Youth Hockey Tournament, named in honour of Wally after his passing. With Wally's vision in mind organizers for the tournament work on expanding and enhancing it every year. Wally's traditions and culture were very important to him, and culture is being integrated into the tournament events for people to experience.