Jim "Jake" Maloney
Fighting the Good Fight, in the arena and out.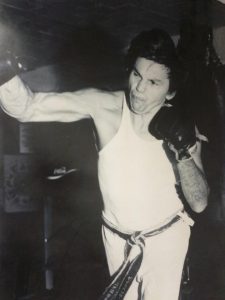 Jim "Jake" Maloney is a Karate Master Rank; 10th Degree Black Belt, and has been training for over 40 years. Jim is the first person in Canada to reach the rank of Black Belt in Uechi Ryu Karate, in 1967, and in 1970 brought Uechi Ryu Karate to Canada.
Jim grew up in Sipe'kneketik First Nation, Nova Scotia, Canada. He grew up helping his father raise the money needed to send his older brothers to university. His father was strict and Jim said during an interview with Messad F. Ayoob, for Black Belt magazine in 1977, "I had my 'Shaolin Temple Discipline Training' early."
At 16, Jim moved to Boston, Massachusetts and quickly found work for a department store burning refuse and carrying boxes. He learned carpentry and later worked in construction. It was during this time that Jim's interest in Karate grew and he found the Mattson Academy of Karate.
The Academy was the founder of Uechi Ryu in the United States and Jim found exactly what he was looking for. Jim studied alongside some of the most decorated competitors in the sport like Bob Campbell; The United States Karate Weapons Champion, New England and Massachusetts karate champion and member of the US Champion kumite team. Jim's first instructor was Van Canna, one of the top tournament competitors in the Northeast and is someone Jim refers to as, "One of the toughest men I have ever met".
Jim trained under George Mattson, when Mattson singled him out as a Green Belt and provided special attention to his training. Jim began competition in his late growth belt and rapidly rose as, "one of the top kumite competitors".
Jim was an undefeated New England champion in free fighting and cement breaking competitions (1967-1973)
As an official representative to Okinawa/Japan for Canada in the Uechi Ryu Karate association, he has trained more than 16,000 students internationally as well as trained and developed hundreds of fighting champions on full contact basis.
Fighting the Good Fight
In recent years, Jim Maloney has organized and operated the first independent, all Aboriginal Training Institute in Canada named the First Nations Tribal Justice Institute. The Institute is responsible for training hundreds of First Nations people across Canada. He also developed and taught self–defense programs for the Halifax school for the blind and provided special training for women in self-defense in conjunction with the YWCA, YMCA Helpline and Rape crisis centre.