Noel Paul
"Road Racing! The finest sport of all in my books" – Noel Paul, 1976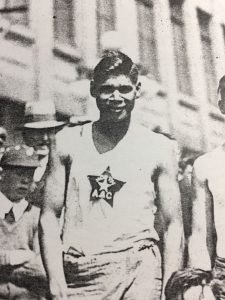 Born in 1904, Noel Paul was an avid runner from a very young age. He would accompany his father, also a runner, to races and watch him compete. When Noel was 18 he launched his competitive career as he ran in local competitions and marathons. He's recognized by his community, his peers, and his contemporaries on both sides of the border as an outstanding runner, athlete, competitor and coach. Noel Paul was inducted into the Mi'kmaq Sports Hall of Fame in 2017, in recognition of all his outstanding qualities as an athlete.
Noel Paul was raised by his mother and father in Halfway River, Cumberland County. He spoke Mi'kmaq but his parents also taught him English. Noel's father was a middle-distance runner and it was by watching his father compete, that Noel was inspired to enter his first race at 18 years old. Noel's father talked to the race officials and convinced them to let Noel run, thinking that it would teach him a lesson. Noel Paul wound up impressing everyone.
In 1925, after moving to Springhill Junction, Noel commuted to work by walking, running, and jogging the 15 mile distance.This kept him in top shape so he could continue running in local competitions.
In 1930 he came in third place in the Halifax Herald Modified Marathon. In 1931, after coming in second to place to the great Roy Oliver, Noel was gaining recognition throughout Nova Scotia and was invited to run in races from Yarmouth to Antigonish. He also began training for the Boston Marathon in 1931 by doing road work, weight training and skating, adding hilly races to his regime to prepare for Boston's terrain.
Noel Paul placed 29th place, out of 260 runners, and came home a local hero.
Noel Paul served with the Canadian Armed Forces for over five years in the Princess Louise Fusilliers and the Royal Canadian Artillery. While there he continued to run and train and spent most of his spare time coaching others to run.
In 1975 Noel Paul was inducted into the Hall of Fame, at the Old Halifax Forum. This site burned, unfortunately, and the records and memorabilia were destroyed, including all of Noel's information.
Noel Paul passed away in 1984. Since then his family has been collecting information to have him reinstated into the Nova Scotia Sports Heritage Centre so that his community, and the public can see his achievements on display once again.