Henry "Hank" Peters
"…it's in the blood. Once you roll a log…" (Hank Peters, 2000)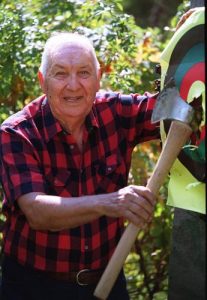 Hank Peters was born and raised in Bear River, Nova Scotia, in 1915. He began working, and competing as a lumberjack at young age and was 16 years old in log rolling, rail splitting, ax throwing, log sawing, and canoe jousting.
"You go into the woods for weeks, even months, and there's not much to do. But you learn that the shortest way to town is the river, so you spend a lot of time rowing canoes and balancing on logs", said Peters during a 2000 interview with the Cincinnati Enquirer.
In 1934, Hank Peters had a competition at the Boston Gardens, after the Bruins missed the playoffs. He actively competed from that day forward.
After competing for 20 years, Hank decided that he wanted to become a producer and created his own show, the famous "Hank Peters Lumberjack Shows". It is the longest running professional lumberjack show, and in 2005 Hank was inducted into the Lumberjack Hall of Fame.
Still setting records
After a serious accident, when Hank was 64 years old, that broke his pelvis after a 12 foot fall, Hank's wife Ann insisted that Hank hang up the ax. He said OK…
Then at 81 Hank set another record at the Webster County Woodchopping Festival as the oldest competitor to swing an ax in the Log Chop. At 85 years old he still competed, but limited himself to canoes and axes.
Henry "Hank" Peters passed away at the age of 96, in Cincinnati, Ohio.