Kji-keptin Alex Denny
"We go into sport as a young lad for the love of it and we stay in it as adults to give back to our kids so that they can participate" – Kji-keptin Alexander Denny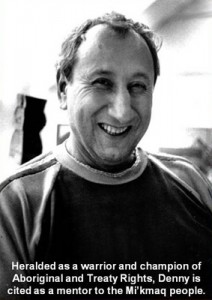 Kji-keptin Alexander Denny was inducted into the Mi'kmaq Sports Hall of Fame in 2017. The lifetime of achievements by Denny have been written documented for many years.
Alex Denny was born in 1940, and grew up in Eskasoni, raised by community Elders Mrs. Mary Anne Denny and her husband Andrew. The impact of being raised by community Elders contributed to Alex's ongoing commitment to being a knowledge-keeper of the culture, tradition and language of the Mi'kmaq people.
When Alex Denny was young he was an active participant in athletic programs at school, playing baseball, football, hockey, and basketball. While attending St. Dunstan's High School in PEI, Alex Denny received the Tom Longboat Award. The Tom Longboat award is given out annually in recognition of the top Aboriginal athletes in Canada.
In 1966, Alex Denny was appointed the Kji-keptin, of the Sante Mawio'mi, or Grand Captain Mi'kmaq Grand Council. In his role, Kji-keptin Denny concentrated his efforts on retaining the Mi'kmaq language, and treaty rights.
As the namesake of the Kji-Keptin Alex Denny Memorial Sports/Ed Award, his legacy lives on in promoting higher education, while participating in sports. Kji-keptin Denny was also an advocate for self-determination over welfare and worked tirelessly with, and against, the government for land and recognition of treaty rights.
---
Resources
A wonderful article about Kji-keptin Denny on the Cape Breton University website:
https://www.cbu.ca/indigenous-affairs/unamaki-college/kji-keptin-alexander-denny-lnuisultimkeweyokuom/about-alex-denny/
A beautiful video tribute to Kji-keptin Alex Denny
https://www.youtube.com/watch?v=SF4paoJ7JaA
Powerpoint document with additional information by Jaime Battiste:
https://www.crrf-fcrr.ca/images/Aboriginal_Treaty_Rights_Workshop.ppt